If you're an avid reader, book reviewer, or "bookstagrammer" or "Booktok" content creator, you've probably heard of advanced reader copies—or ARCs. If you're a writer with a publishing deal or you're self published, you may have advance reader copies of your own work ready to send to potential readers.
However, if you're not familiar with advanced reader copies, here's everything you need to know about ARCs, both from the reader's and the writer's perspectives.
What is an advanced reader copy?
An advance reader copy is an early copy of the book that's released to a select audience before its official publication. This helps generate word-of-mouth marketing before the book is put on the shelves. They are sometimes called advance review copies, or ARCs. Occasionally, small changes may be made between the ARCs and the final published book.
Typically, advance reader copies are paperback copies that are sent out to early readers like book reviewers and book bloggers, or those who make any sort of book-related content, to drum up hype around a book's publication. Sometimes, advance reader copies are given away as part of a promotional contest or giveaway. Other times, they might be sent out to booksellers, so those sellers are then better informed and can recommend the book to shoppers as soon as it comes out.
No matter who you send ARCs to, the main goal is for the author and their publisher to increase the book's pre-orders and sales.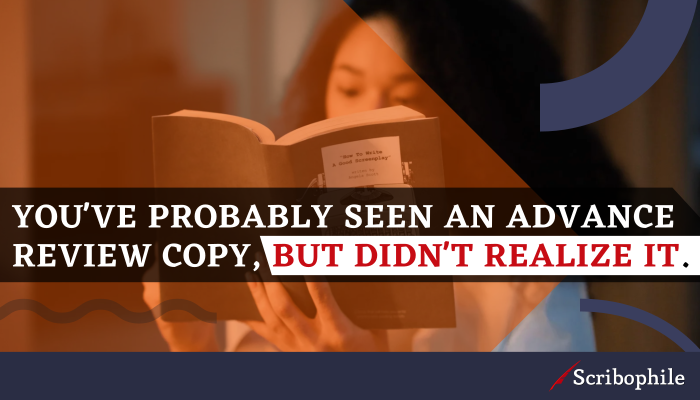 If you're a writer and have a new book coming out with a traditional publisher, they'll usually send copies on your behalf, as well as ask you to send out more copies, too. Depending on the publisher, they may provide physical copies or digital-only copies of the review books. If you're self-publishing, you can order your own proof copies from whatever printer you've decided to use to similarly drum up advance reviews and attention.
What do ARCs look like?
While the general public doesn't often have access to advanced reader copies, it's very likely that you've spotted an ARC in the wild at the library or a used bookstore, and just didn't know what it was.
Typically, the book will have a special graphic that says "Advanced Reader Copy" and "not for sale" somewhere on the cover. Then, the intended publish date is usually printed on the book's spine. It might look otherwise the same as the published version, or it might have a placeholder cover while the official art is finalized.
Why do publishers not want ARCs to be resold or redistributed? The advance reading copy isn't the finished book. This means you may find mistakes or errors in this uncorrected proof. If the author receives strong feedback about a particular plot element, they may also make small changes to the story.
Still, just because it's publishing courtesy not to resell or redistribute an advanced reader copy that one may have, that doesn't mean that courtesy is always followed. Many times, ARCs are donated, sold, or given away.
Getting ARCs as a reader
If you want to get your hands on some advanced reader copies, there are a few ways you can go about it.
Leveraging a platform
The first way is by simply building a large platform based on books. If you have a large audience, either via your own social media platforms or via a publication that you may work with (ie, a newspaper or magazine), then publishers may volunteer to send you ARCs without you reaching out.
If you're already an established author, you may also receive ARCs in exchange for a review on your platform, or for providing a blurb for the back cover.
Applying to popular ARC sites
If, however, you do not have that sort of platform, you can apply to receive ARCs in exchange for reviews via sites such as Edelweiss and NetGalley (which gets its name from "galley," which is sometimes used interchangeably with "ARC"). Sometimes, sites like these will grant you access to ARCs even if you only have a record of reviewing lots of books in places like Goodreads or Amazon.
The main rule? Read and leave book reviews
No matter how you get your ARC, though, it's expected that you give the book a timely and fair review in exchange.
That doesn't mean the review needs to be glowingly positive, just because you received the book early and for free. But, if you want to receive more ARCs in the future, you can increase your odds by providing the publishing company and author with what they need: book reviews before the book comes out.
What to know about ARCs as a writer
But let's say you're not really that interested in reading ARCs. Instead, let's say you're a writer who needs to send some author copies out into the world.
Why is sending ARCs important for authors?
Sending out advance reader's editions of a book is especially important for self-published authors. While a traditionally published author might have the assistance of the publishing industry and their publishing house when it comes to building up fanfare around a book's release date, getting reviews and getting people to talk about a book, for self published authors, it's all on their shoulders.
If you have an early reader's edition of your book, you can use it for promotional purposes, including…
Building a launch team (launch teams help build excitement around your book; you would send these ARC copies to your team ahead of your book launch and the launch team would help with promotion in exchange for swag)

Hosting giveaways on your social platforms

To generate reviews ahead of release
But how do you get these ARCs if you're planning to self publish? Here's what you need to know.
Designing an ARC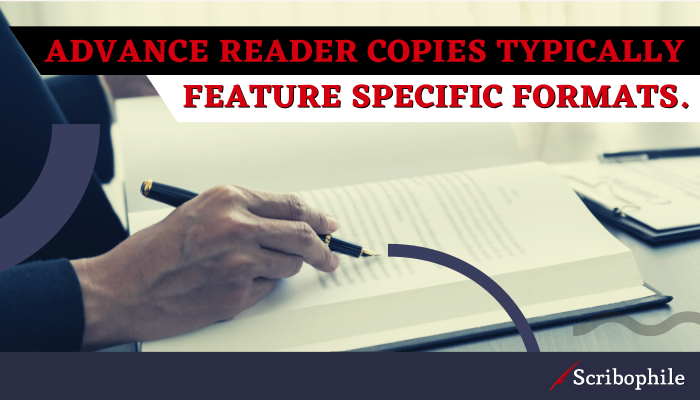 For self publishers who are either designing independently or working with a designer who's not first and foremost a book designer, then you'll want to double-check that you include a few key things in any ARCs.
In addition to the aforementioned "Advanced Reader Copy" disclaimer graphic that goes on the book's cover and the publication date usually printed on the spine, you'll also want to include a page that lists basic, need-to-know info about the book's format, expected price, genre, and age group. An additional disclaimer for errors is usually also included. Some ARCs will likewise include details about a marketing plan ahead of final publication.
Deciding your format
After ensuring the book is designed correctly for sending off to advance readers, you'll also need to pick a format.
Some publishers only distribute digital ARCs, as it's more cost-effective. Even physical ARCs are usually of a lesser quality than a normal book, though, in an effort to keep costs down. This means they'll be paperback only and typically printed on lesser-quality paper.
That said, don't feel like you need to get fancy with your book in order to attract readers. If you don't want to pay for extra physical runs of your book, or for a batch through a provider like IngramSpark, you can simply create a very similar digital file, just like an ebook, for distribution.
Sending your advance review copy to readers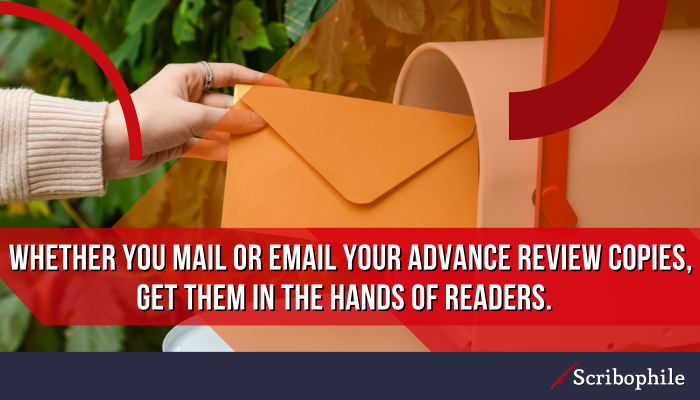 After you have a ready-to-go ARC, you have to both decide who you'll send it to, as well as when you'll send it. Ideally, reviewers will receive ARCs with enough time to read them before your book is released, but not so far in advance that any coverage fades or is forgotten by the time your book launches. Six months prior to release is usually a good time frame
In terms of sending books to readers, if you're an independent author who's self-publishing, you get the great benefit of being able to decide exactly who receives your book (rather than relying on your publisher). You can send out lots of copies and hope to get lots of reviews, or you can narrow in on wishlist reviewers and publications and target your outreach.
If you want blurbs for your book (which are the endorsements from other authors that you see on a book's cover), you'll want to choose to send your book to similar authors (preferably those you already have a relationship with) who will attract the types of readers you want. Give the authors enough time to blurb the book in advance of finalizing your front cover, so you can incorporate their blurbs into the final version.
Remember to always include a personal note with your ARC! A simple thank you goes a long way (and helps build long-standing relationships, too!)
Advanced reader copies: great for the writer, great for the reader
As a reader, it can be incredibly fun to get your hands on coveted advanced reader editions. As a writer and author, though, ARCs can ensure your books are front of mind as they release, boosting your sales, growing your reputation, and propelling your success in your genre.
Still deciding which publishing route you want to go? Check out our comparison of self-publishing vs. traditional publishing.