What if you could have a terminal degree that helped you learn, grow, and even teach at the college level?
That's what an MFA can do for you. Unfortunately, many of those whose lives would be transformed by getting one don't know what it is, how it works, and what the benefits are.
What is an MFA? What are the pros and cons, and how can you begin your application? Keep reading to discover everything you need to know!
What is an MFA?
An MFA is a graduate-level degree in arts industries such as creative writing, visual art, drama, or film, representing a high level of professional training and practical experience in the arts. While an MFA isn't necessary to become a successful writer, it's often a requirement in teaching and other professional academic positions. "MFA" stands for "Master of Fine Arts."
Those asking "what is an MFA" are often surprised to discover that it's similar to a master's degree. Both of these degrees typically require you to complete a bachelor's degree first, and both of the programs typically require two or more years to finish.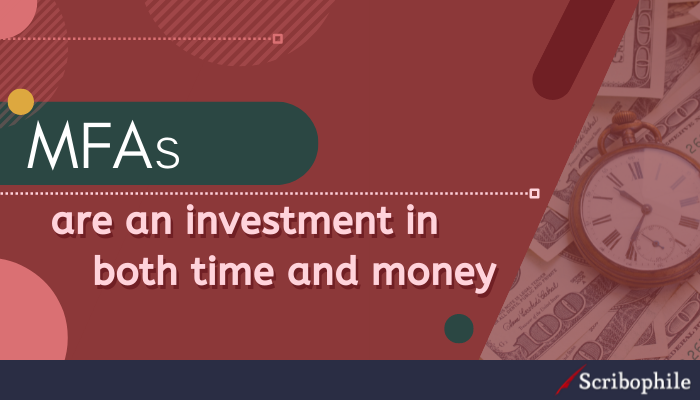 The chief difference between an MFA and a traditional master's degree is that an MFA is considered a terminal degree. This means that MFA graduates can't earn a higher degree in that subject—the MFA is the highest degree to achieve.
In other words, if you earn a master's degree in a particular subject, you can usually follow that up by earning a Ph.D. But while there are doctoral programs in certain MFA fields (for example, you can earn a doctorate in creative writing from multiple places), the MFA degree itself is considered a terminal degree in different academic and business sectors. This may lead to certain job opportunities that having a standard fine arts degree might not.
Who can get an MFA degree?
Because the MFA degree is a type of graduate degree, anybody who has completed an undergraduate degree can pursue an MFA. Beyond needing an undergraduate degree, different MFA programs may have different requirements for admission—you'll have to research each one.
Keep in mind that that entrance requirements may be very different for different degrees. For example, a fine arts program may have very different requirements from one in the creative or performing arts.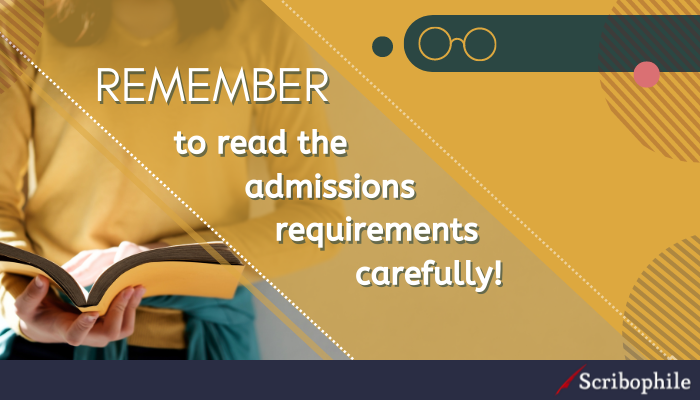 Are there different types of MFAs?
Different Master of Fine Arts programs offer different areas of focus. Traditionally, these areas include creative writing, design, performing arts, and visual arts.
Like different graduate programs, different types of MFAs teach very different types of skills. And even within the same program, there is much variety. For example, one person pursuing an MFA in creative writing may be focusing on writing poetry, while another person in a similar program is focusing on screenwriting. In Master of Fine Arts programs focused on the performing arts, some students focus on acting, some on directing, and others on things like stagecraft.
Whichever one you pursue, just be aware that completing it will dominate the next few years of your life and affect your future career for many years after that. So it's important to find the MFA program and university best suited to your needs.
How long does it take to complete an MFA?
Depending on the student and the program, an MFA typically takes between two to three years to complete. A standard Master of Fine Arts degree requires that students complete 48—60 graduate credits.
Of those credit hours, most will focus on coursework. So if someone is pursuing an MFA in creative writing, they must complete a certain number of credits (typically 48 credits of coursework) focusing on different aspects of their craft, including writing, editing, and publishing.
Some MFA programs require additional credit hours that are focused entirely on a thesis or dissertation. In our example above, the student who completes 48 credit hours of an MFA in creative writing may have to also produce a book-length manuscript in order to graduate. Some MFA programs count that thesis or dissertation work as an additional 12 credit hours.
How much does an MFA cost?
The costs of a Master of Fine Arts may range between $28,000 and $109,000. The exact costs can vary wildly depending on the university, your chosen program, how long you spend in school, and whether the course is online or on campus.
As with your undergraduate education, there can be huge differences in the cost of tuition depending on where you go. If you're indifferent to the caliber of college you attend, the degree will be much more affordable. But if you're hoping to further your career through a more prestigious program (like getting an MFA from Columbia University), the tuition will be much higher.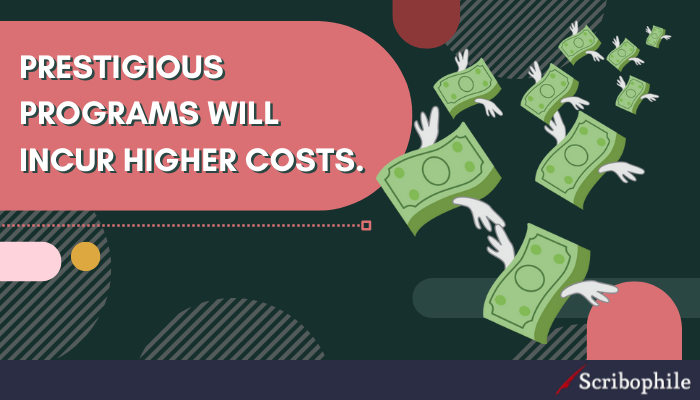 There can also be a big difference in costs between different types of MFAs. For example, an MFA in creative writing is usually on the cheaper end, because students need little more than a laptop and textbooks to complete their coursework. But students getting an MFA in certain studio arts programs may have to pay for their art materials, further increasing the cost.
One of the biggest factors in how much you pay is how quickly you complete the program. For example, it's possible for some students to complete an MFA degrees in two years, and some "fast-track" programs are even quicker than that. But if you take longer (for example, you need four years to complete both your coursework and a book-length manuscript), you could nearly double how much you pay.
Finally, whether you pursue an MFA degree in-person or online plays a major role in how much you pay. When universities advertise the cost of attendance for a program, they're considering how much it'll cost you to rent an apartment, get food, and attend to other needs throughout the year. If you already have a home and a job and find an MFA you can complete online, you may have many advantages over a more traditional MFA degree.
Advantages of an online MFA
MFA students have more online MFA degree options than ever before. And completing such a degree online comes with several distinct advantages.
The main advantage of an online MFA degree is that you can stay at home to complete it. You won't have to relocate yourself or uproot your family. And depending on the pace, you may be able to complete the degree while keeping your current job.
And even if you aren't juggling a job and pursuit of an MFA degree, you'll likely enjoy the easier scheduling of most online programs. If it's been a while since your undergraduate classes, you may not like setting an alarm and getting up early for a traditional degree, nor juggling your life and school requirements each week.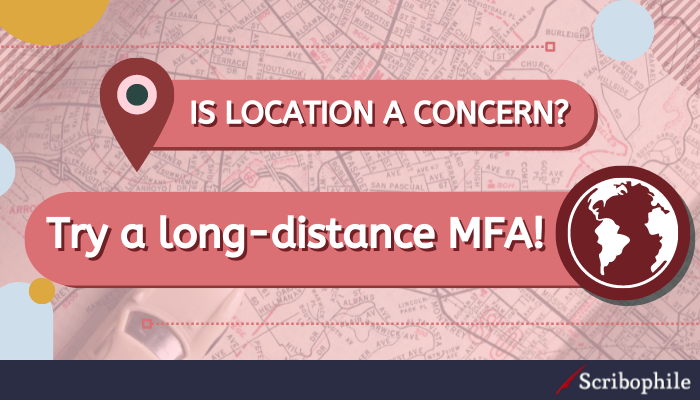 As we noted above, an online MFA degree is going to be much cheaper than a traditional one. In addition to potentially cheaper tuition, you won't have to rent a new home in a new city. Unlike traditional MFA students, you can afford to shop around to find the most affordable online programs rather than lock yourself into nearby options.
When researching online MFA degrees, be sure to check whether a program is fully online or if it's a low residency program. Low residency programs require you to visit the campus, but only for short periods throughout the year. Compared to a low residency program, high residency programs require you to be on campus more often.
Do I need to get an MFA?
Unless you intend to be a college professor, you typically don't need to get an MFA. Simply put, there are other ways to learn some (and perhaps all) of what you could learn from completing an MFA degree.
Students who wish to become college professors are often drawn to MFA degrees because they're terminal degrees. That means they can earn the degree and potentially land any teaching job they want. While it's possible to become a professor with "only" a traditional master's degree, there is a good chance you would lose out to someone who has a Ph.D. (in other words, someone with a terminal degree).
However, the vast majority of students attending most MFA programs are hoping to hone a particular craft. One student may hope to become a better writer, another a better actor, another a better painter, and so on. And a good MFA program is a great way to learn from some of the keenest minds in that particular field.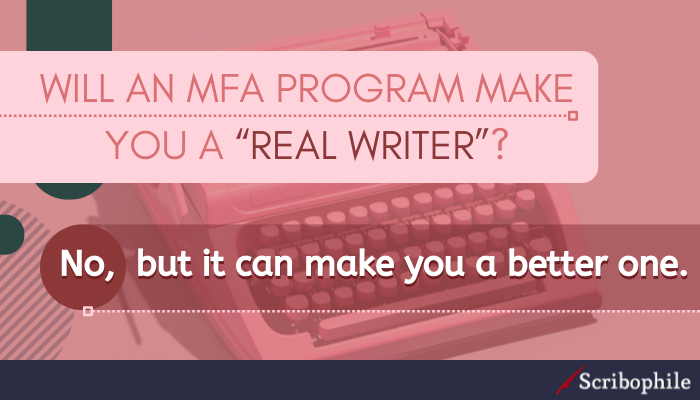 Nothing keeps an aspiring writer from finding mentors and writing workshops outside of an MFA program. And nothing keeps actors from performing in various productions and learning from experience. Painters, of course, can continue painting and developing their visual arts skills, both on their own and with the help of others.
In short, an MFA can help you foster skills you already have, but it can't give you brand new skills any more than a bachelor's degree can. And if you already have such skills, there are ways to help them grow outside of an expensive graduate program.
Pros of getting an MFA
Like any other big decision, getting an MFA has its pros and its cons. To help you make that decision, we're going to look at both the benefits and the drawbacks, starting with the pros.
The first pro is that you get to work and interact with a group of like-minded people at a college level. Instead of being the only artsy kid in class, someone pursuing an MFA in Visual Arts would be surrounded by a cohort of people students just like them. This is a great way to study and learn, and maybe even make some lifelong friendships along the way.
The second pro connects to the first: access to honest (sometimes brutally honest) criticism. Such criticism will come from peer review from other students, and, most of all, from your professors. Nobody learns from praise, and specific and actionable criticism is one of the best ways to grow your skills. (Scribophile is all about getting friendly and helpful criticism on your writing!)
The third pro is that you'll learn a lot more about your chosen field. Most students who enter into an MFA program discovered they had certain skills (such as skills in writing, painting, or acting) early on, and they cultivated that skill mostly on instinct. In an academic setting, you can learn more about the history and theory behind your field. This is a great way to learn new ideas and techniques while also learning more about the greats who came before you.
Fourth, an MFA basically forces structure and deadline into your life. That may not sound like a good thing, but many gifted students have trouble finding the motivation to sit down and bring their ideas to life. When you have professors setting firm deadlines, you have no excuse but to get the job done. And along the way, you might just learn how to motivate yourself into action!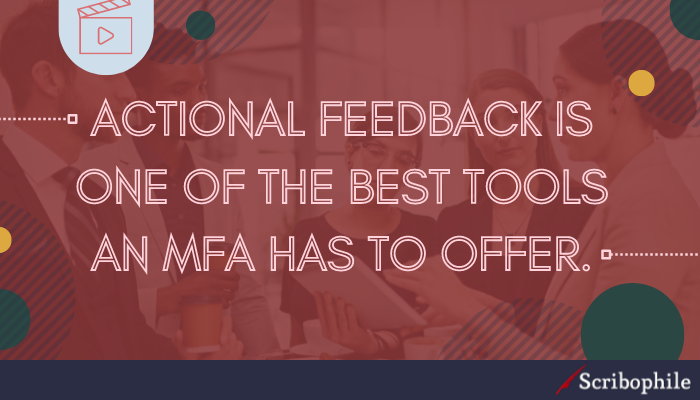 Cons of getting an MFA
As you can tell, there are many benefits to getting an MFA. But there are also some major drawbacks you need to consider. With that in mind, let's look at the cons.
The biggest con (and quite possibly the longest-lasting one) is the cost. As we noted before, some prestigious MFA programs may cost over $100,000 to complete. And even if you find a more affordable program, you may have to take out student loans to cover the cost. That means you could be paying back the cost of this program long after it's complete, on top of possible debt from your bachelor's degree.
The next con is that an MFA, like other degrees, doesn't guarantee you'll get the career you want. You may want to become a creative writing professor, but career opportunities for these positions are very rare and highly competitive. It's quite possible you could spend several years and many thousands of dollars just to end up back where you are now, career-wise.
The third con is something of an open secret when it comes to graduate school: whether you get your money's worth out of a program largely comes down to the advisor that you get. The right advisor can elevate your skills and help you ultimately land your dream job. The wrong advisor, though, may do little to help your skills grow and could even sabotage your academic and career plans.
The final con is that even some of the very best MFA programs don't prepare you enough for the real world. For example, many MFAs in creative writing focus on writing and editing and focus very little (if at all) on publishing. You can learn how to get published on your own, of course. But if you're having to teach yourself some of these very fundamental aspects of your field, you might end up wondering why you spent years of your life getting an advanced degree in the first place.
Alternatives to getting an MFA
As you can tell, an MFA degree has many pros and cons. If you're not sure about enrolling but want some of the benefits of this degree, you should know there are alternatives out there.
For example, you can pursue a writing certificate, as opposed to a university-level degree, from a university that offers one. A writing certificate is an online tutorship program that is pricier than some alternatives, but you get the benefits of an online program and an intense writing cohort of other enthusiastic students. You also get a certificate featuring a university name, which may help you pursue careers in certain fields.
Other alternatives are cheap, and many are free. For example, it's possible to join a writing workshop. This gives you many of the benefits of working with a writing cohort without having to move, take on student loans, and so on.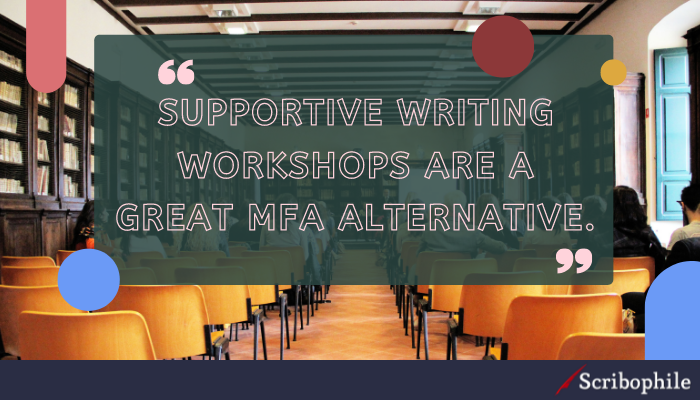 And, in a post-pandemic world, there are many online groups that have the same function. With video call apps like Skype and Zoom, you still get the face-to-face experience of a writing cohort. Best of all, you don't even have to leave the house!
What you need to do to apply for an MFA
The good news is that students interested in an MFA only need to take a few steps to apply. Below, we've outlined each of these steps and what you need to do to maximize your chances of landing in the program of your dreams.
1. Find the right program
The first step is, arguably, the most difficult: you need to find the right program. That means finding a program that best suits your field, your budget, and your future career plans.
When it comes to your field, we recommend finding a school that is known for what you want to do. Someone that wants to be a screenwriter, for instance, may be drawn to places like Columbia University or University of Southern California for their competitive screenwriting programs.
However, your budget is a major factor. You don't necessarily have to move to the other side of the country for an MFA program. The trick is to find an affordable program with a professor (or perhaps more than one professor) specializing in your craft that you would like to learn from.
Finally, if the data is available, try to see what the job placement rates are like for the MFA programs you're interested in. If the rates are low, or the data is unavailable, you may want to reconsider your application.
As an added bonus, once you've done your research on the schools you're interested in, it'll be easier to customize your applications!
2. Decide between an online or offline program
These days, you have more options than ever before, so it's important to decide whether you want an online degree program or a more traditional one.
The benefits of an online degree program are obvious. The costs are much lower, for example. And many programs allow you to work at your own pace, meaning you could earn the degree without quitting your current job or moving your family across the country.
However, attending a writing program on campus provides a greater sense of community with other students and more immediate feedback from peers and professors. Plus, while it's not entirely fair, online degrees aren't considered as prestigious as more traditional degrees, and this could potentially impact your future career.
3. Create a solid portfolio
Most of the application process will be familiar to your undergraduate application process. However, there is one big difference: faculty members will want to see a portfolio.
If you're a writer, this should be a portfolio of short stories, a completed manuscript, or other writing samples. Whatever your field, the point of this portfolio is to show an admissions committee that you're skilled enough to be admitted into the MFA program.
At first, you may be tempted to make your portfolio a showcase of your best work. However, it may be easier to win the committee over with a portfolio built around a central theme. This helps them see how you organize your work and your ideas and gives them a glimpse of what your work would look like on a larger scale.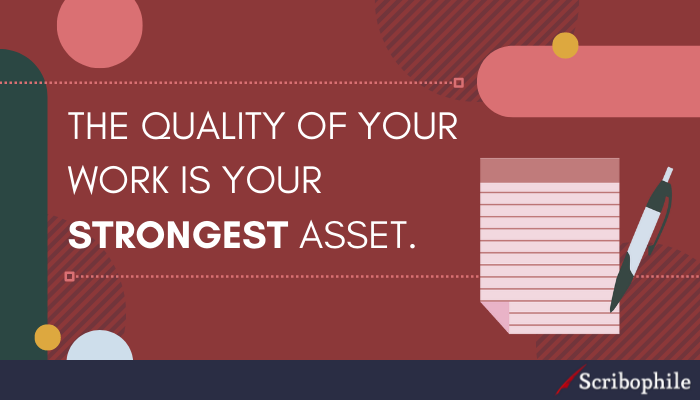 4. Get advice from previous mentors
The biggest mistake you can make in your application is trying to handle everything on your own. Instead, we recommend reaching out to your previous mentors and seeking their advice about your portfolio and your application.
Keep in mind that most applications require you to submit a minimum of three letters of recommendation. These letters should come from mentors who can speak to the quality of your work and the quality of your character. If you're already asking them for letters of recommendation, you may as well go the extra step and ask them to review your application.
Your previous mentors can help you fine-tune different parts of your application. If possible, you should seek out those who have completed an MFA before. They may be able to offer more specialized advice that your other mentors can't.
5. Submit your application
When you've chosen the right program and created a great artistic portfolio, you'll need to submit your application. Fair warning: this is a straightforward process that usually gets bogged down by a lot of paperwork.
For example, we mentioned that you'll need letters of recommendation and a portfolio. You'll also need to submit transcripts from your undergraduate college(s), a statement of purpose, and possibly previous coursework. In some cases, prospective students may be required to submit a full CV as well as GRE scores (though this is much rarer for MFA programs than traditional master's programs).
Now, it's all over except for the waiting. For fall admission, most universities send out acceptance letters to MFA applicants between March and July. Keep in mind that you can complete your FAFSA application for student aid and even pursue certain scholarships for other financial awards before you're officially accepted, so you can save yourself some time in the future by going ahead and knocking those out.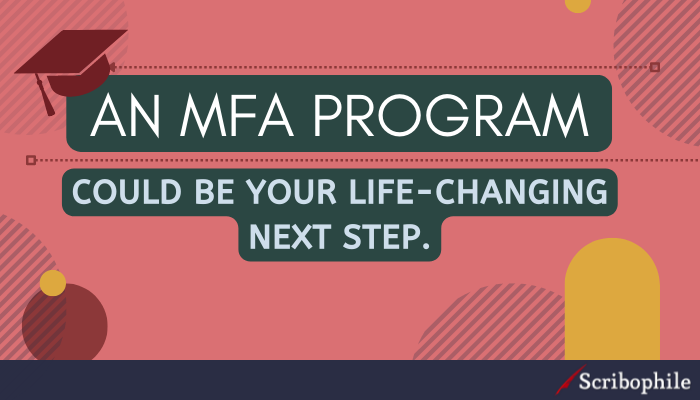 Is an MFA right for you?
Now you know what an MFA program is and what the pros and cons are. And if you're ready to take the plunge, you know what the application process looks like.
It's time to make the decision of whether you want to dedicate the next few years of your life to an advanced creative arts degree or not. Regardless of your decision, don't forget that there are numerous other ways to grow your skills!