Getting Around Scribophile
Getting around Scribophile is pretty easy. Here's a breakdown of the site navigation in the left-hand sidebar.
(If you're on a mobile device like a phone or a tablet, the navigation will be in the Menu button at the upper-left of the site.)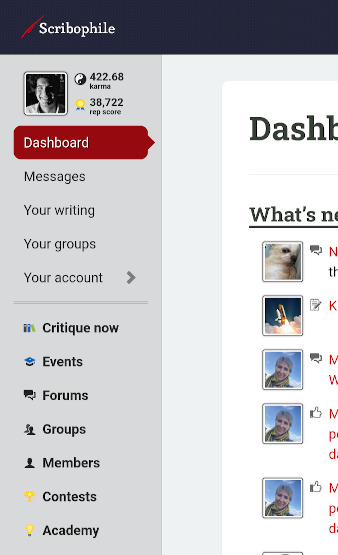 The top half of the navigation sidebar is how you'll get around your personal account on Scribophile.
Your profile picture is what you click on to view your personal profile page. You'll also see your current karma points and reputation score.

Dashboard leads you to your personal Scribophile homepage, where you can see what's new on the site, plus the activity feed. You can also see what's new in the discussion forums, your reading reminders, and more.

Messages will take you to your message inbox, where you can read and send messages to other Scribophile members.

Your writing is where you can post a new work to Scribophile, and also manage all of the writing you have posted.

Your groups lets you see all of the groups you're a member of, in one convenient place.

Your account expands into a submenu where you can edit your perosnal profile page, see your karma history, change some settings, and also log out.
Below the top half is the main site navigation. These buttons will take you around Scribophile in general.
Critique now is where you go when you want to find some writing to read and earn karma points. You'll find the entire Main Spotlight listed here.

Events will let you browse our upcoming live workshops, classes, and other events.

Forums is how you access our public discusison forums. The main page shows you the newest threads in all of our forums. You can click on a specific forum to open it up and see the full list of threads for that forum

Groups is where you'll find groups of like-minded writers to chat and make friends with.

Members lets you browse through some handy lists of top members and lets you search for specific members.

Contests is where we list all of our free, cash-prize writing contests. Check back often for a chance to win!

Academy goes to our Writing Academy, a place filled with curated, helpful writing resources and articles.