The Getting Started Guide
What's Scribophile all about?
Scribophile is an online writing group for writers who are serious about improving their craft.
We're one of the largest and most active writing groups online.
Here you can:
We're all here to learn, and we welcome writers of all skill levels and walks of life. Don't be shy—Scribophile will be the best thing that ever happened to your writing!
First stop: your dashboard
Your Scribophile dashboard is your jumping-off point for getting around Scribophile. Your dashboard has all the tools you need to see what's happening with you and people you're following.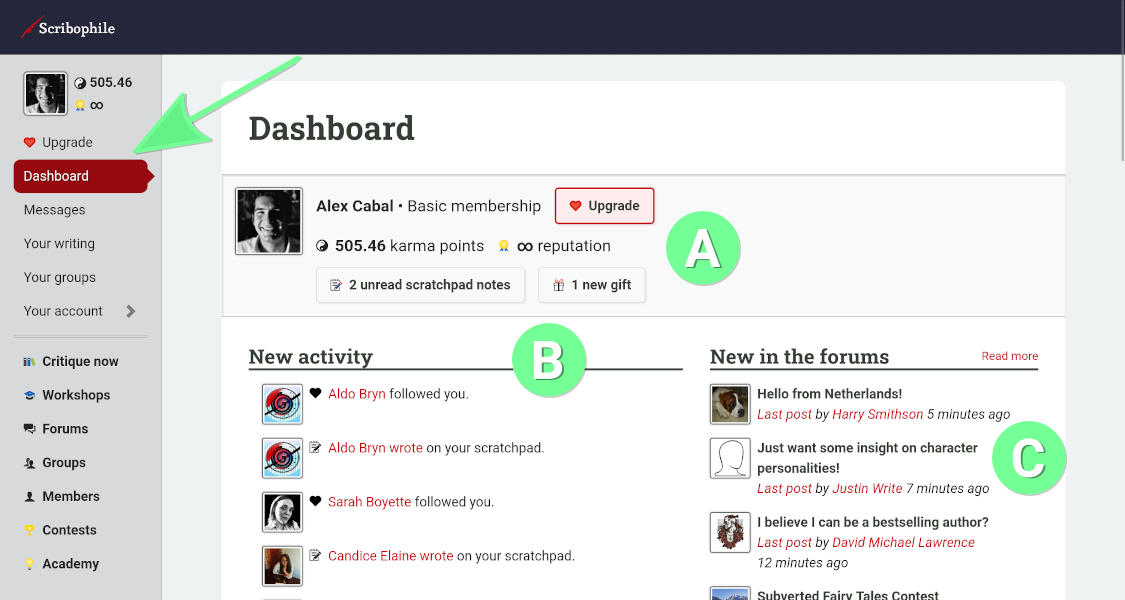 Your event feed shows you what's happening at Scribophile. You'll get updates here when there's activity in your groups or members you follow, and when things happen that directly relate to you—like when one of your works receives a critique.

See what's new in the forums. Click on the header to go to the full forums index.

If you save a critique draft to finish later, you can continue it from this section of your Scribophile homepage.

Get quick access to your reading reminders from your Scribophile homepage. You can add or remove a reading reminder by clicking the ribbon at the upper-right of a work.
Next up: getting around
To get around Scribophile, you'll use the navigation sidebar on the left side of your screen. On smaller devices like tablets and phones, press the Menu button at the upper left of the site to open the navigation menu.
Everything you need to use Scribophile is in this menu—from posting work for critique, to viewing and managing your groups, editing your profile, and changing account settings.
See a summary of your account, including how many karma and reputation points you have.

View your groups and read messages you've received from other members. You also create a new group or send messages to others using these links.

Post and manage your writing. You can post new work for feedback using your Account menu, and you can manage and edit the work you've already posted.

Edit your profile and settings, change your profile picture, view your karma history, or log out entirely. (But why would you ever do that?!)
Set up your personal profile
Now that you know how to get around Scribophile, you can set up your personal profile so your readers know a little about you.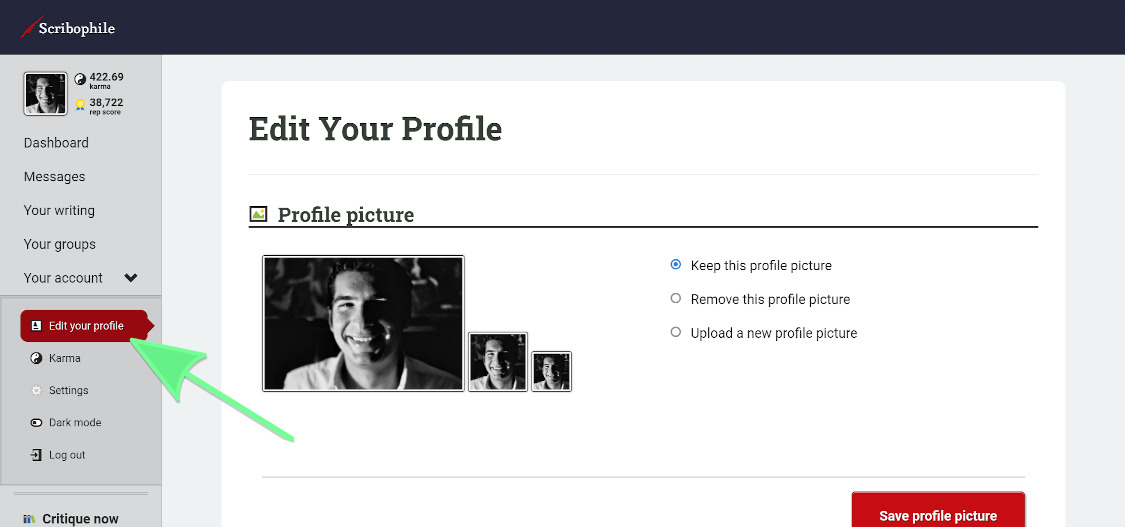 After you've written a little about yourself, you can view your profile by clicking your picture at the top of the navigation sidebar.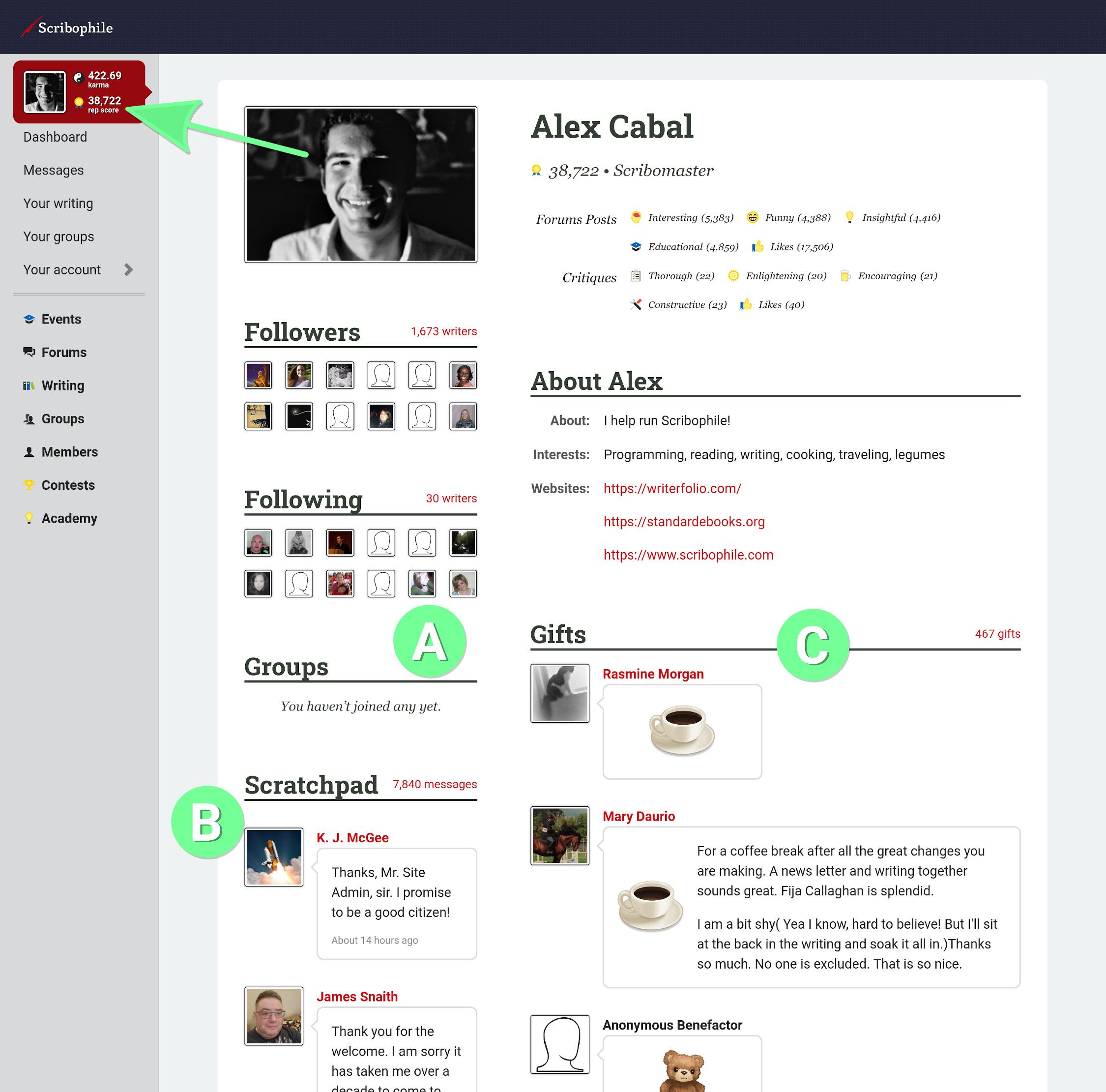 See your followers, who you're following, and groups in the left-hand column of your profile page.

Your scratchpad is here too, and you can reply to others by visting their profile page and writing on their own scratchpad.

Your gifts, works, critiques, and events are listed on your profile page too.
Karma points: what's the deal?
Karma points are the currency of Scribophile—and the best part is they're free!
You earn karma points by writing critiques for the writing of others, and by having other members react positively to your critiques by marking them as "constructive", "enlightening", and so on. You earn more karma points for critiquing work in one of the spotlights versus critiquing work that's not in one of the spotlights. The longer the critique, the more points you'll earn.
You spend karma points on posting your writing for critique, giving virtual gifts to other members, and for a few other things around the site.
It costs 5 karma points to post a new work for critique. Each post should be no longer than about 3,000 words; longer work can be posted in parts and linked together during the posting process. Usually members post chapter by chapter, or a single short story or flash-length work per post.
It's time to earn some karma points...
Before you can post some writing, you have to earn enough karma points to post. To start earning points, go to the Main Spotlight and select a work that looks interesting.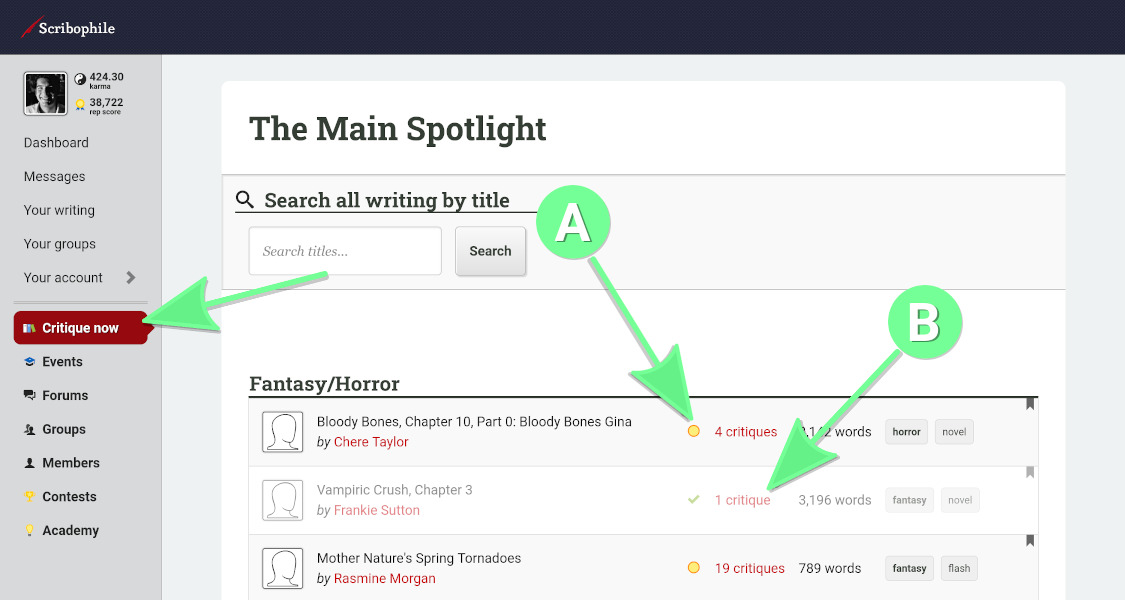 The yellow circle means you'll earn the most karma points for critiques of this work, because it's currently in a spotlight. The Main Spotlight is the easiest way to find works that award the most karma points for critiques.
After you open a work, you can review the critiques it's already received.

Let the critiquer know what you thought of the critique, and they'll earn more karma points each time you click. You can earn more points for your own critiques in the same way.

Alert site moderators to poor critiques, where the bulk of a critique isn't actionable ways for the author to improve, or it breaks other rules. The "Bad critique" button anonymously alerts a site moderator. All such alerts are personally reviewed, and they're critical to maintaining the standard of quality we expect at Scribophile.
Once you've finished reviewing the critiques, scroll to the very bottom to write your own critique and earn karma points!
Post your first work for critique
Once you've earned enough karma points, you can post your first work for critique!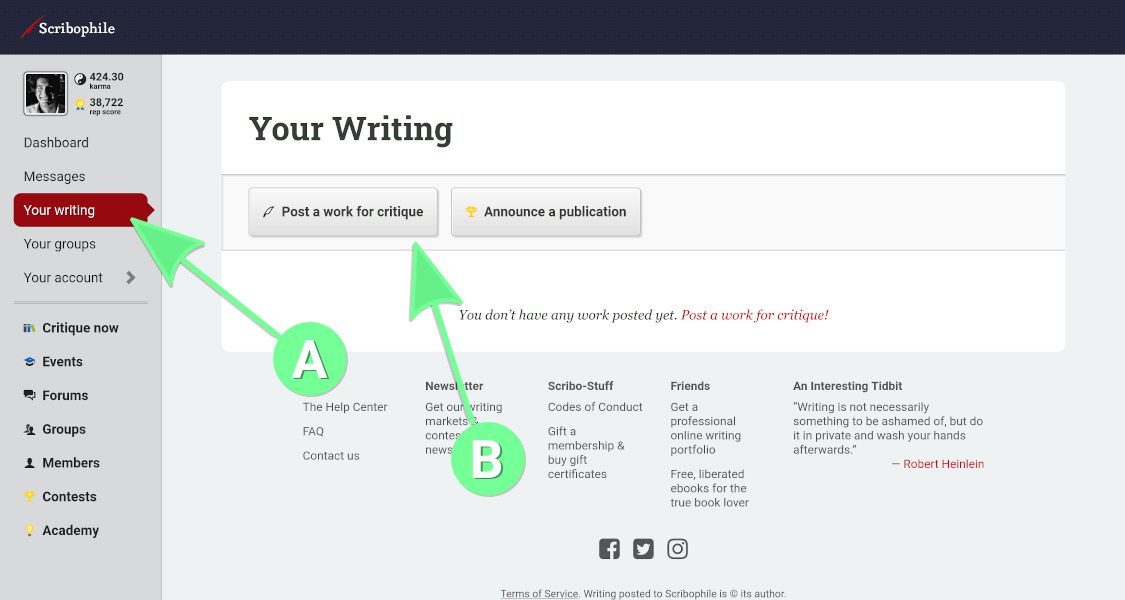 Manage your posted writing with this link on the navigation sidebar. You can post new writing, and edit, delete, lock, or unlock your writing, from this page.

Post a new work using this button. The posting process is fairly straightforward, but make sure to respect our 3,000 word limit for individual posts.
Finally, participate in our awesome community!
You're just about finished with the basics of Scribophile, but there's much more to Scribophile than just great feedback!
Join writer's groups to make friends with like-minded writers, or start your own!

The Forums are where our members meet to discuss all things writing, ask for and give help, or to talk about life in general.

Send private messages to other members to have a more personal chat.

Read the profiles of other members and create your own to start gaining some followers.

Leave notes on members' scratchpads to say thanks after getting a critique, or just to say hi!

See what members have been up to in the "Latest Activity" list in their personal profiles. You can change privacy settings of your own Activity list from the Settings option in your Account menu.
And that's about it for the Getting Started Guide! If you have any questions, don't be shy—get in touch with us, check out the Help Center, or ask in our forums. Have fun!