All About Karma
Scribophile uses a system called the karma system to keep the great critiques flowing. Earning karma is free — with a little work on your part.
You spend karma points on posting your own writing for critique.
It costs 5 karma points to post a work for critique. A "work" is a single cohesive unit of writing: A flash piece, a long poem, a short story, or a chapter of a longer manuscript like a novel or novella. To make critiquing easier for your readers, work that's longer than about 3,000 words should be posted in parts.
Premium members can offer their karma as an extra incentive for people to critique their work, and Basic members also spend karma to enter site contests. You can also spend karma points to send virtual gifts to other members as a way of saying "hello" or "thanks".
You earn karma points by writing critiques for the work of others, and when others react to the critiques you've written by marking them as "constructive", "enlightening", and so on.
You earn the most karma by writing critiques for works that are in one of the spotlights — the Main Spotlight is the best bet. You also earn more karma for longer critiques.
Both Basic and Premium members spend karma points to post work!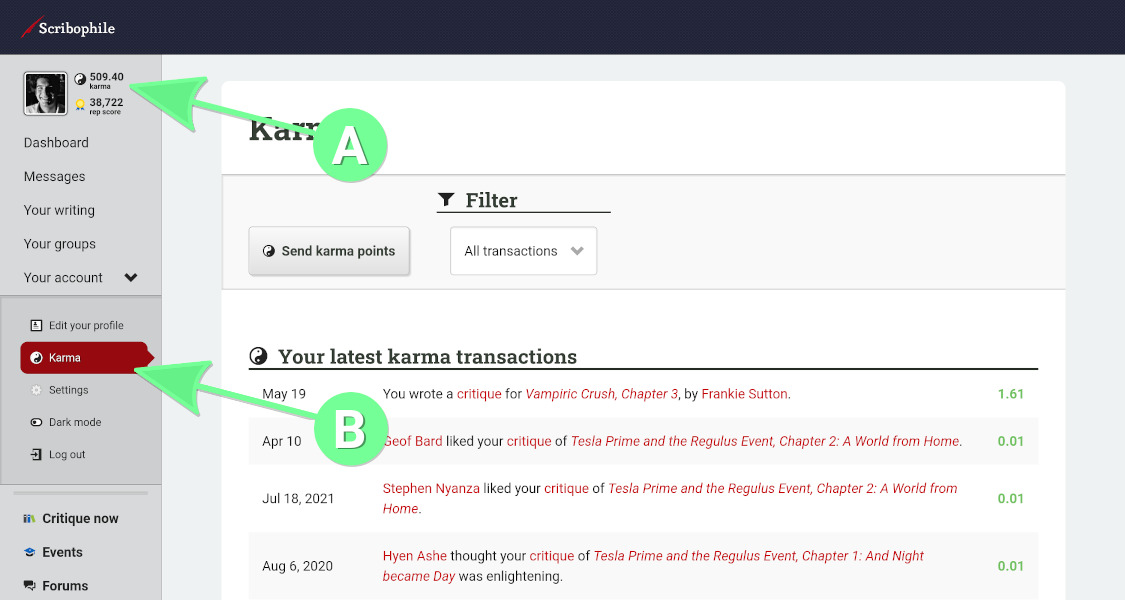 See your current karma total at the top of the navigation sidebar.

Click "Karma history" in the navigation sidebar to see a history of how you've earned and spent your karma. You can also send karma to other members from this page.