Thinking of writing about your life? In that case, you have a choice to make: a memoir or an autobiography? Each of these types of writing represents a different way to tell your life story.
Often, people hoping to commit their life stories into a book don't know the difference between autobiography vs. memoir. But once you understand the key differences, you'll be able to get started writing your emotional truth for the world to see.
What's the difference between a memoir and an autobiography?
Memoirs and autobiographies are both nonfiction narratives written by the person that they're about. Autobiographies encompass the entirety of a person's life story, while memoirs focus on just one powerful experience or a group of experiences. Memoirs cover less time than autobiographies, and are often about conveying a particular message, rather than simply overviewing someone's life.
We'll dig deeper into both autobiographies and memoirs below.
What is an autobiography?
An autobiography is a first-person work of nonfiction that's meant to cover an author's entire life. Because of this, many choose to write autobiographies later in life when they have more of a life story to share.
You don't have to be famous to write an autobiography. However, it can be a tough sell convincing the average reader to dive into a subject's entire life if the subject isn't someone they've heard of before. Having heard of the subject before makes reading about that person's life seem more interesting.
If you're not famous, you'll just need to find a unique perspective or slant to make an engaging story out of your life.
How is an autobiography structured?
Most autobiographies are written in chronological order. This means your autobiography will be an entertaining and detailed chronology of your entire life from beginning to end.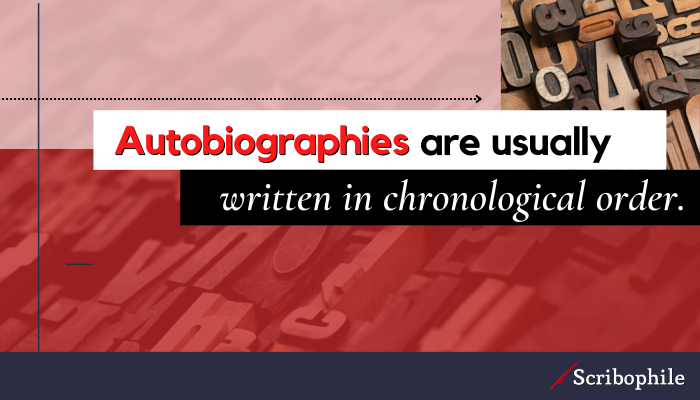 Even though you're writing creative nonfiction, a reader expects the same things from a good autobiography that he expects from any other narrative: an interesting series of events told in a gripping manner. Once you have this foundation in place, your autobiography should focus on the most important moments in your life.
It all starts with you plumbing your own memories so that you can establish important details like setting, characters, background, and so on. You may need to engage in meticulous research into your own family history to get all of the info you need. You're basically the main character of your own story, and readers want to know more about the major events that shaped you into who you are today.
Since this may mean revisiting some of dark moments, an autobiography may quickly become a more sensitive work than you were expecting. Some writers turn to creative nonfiction in order to process trauma or difficult memories, and you might find this a helpful practice for you.
Your autobiography should end with you reflecting on what you have learned from each personal experience—coming to the end of your own Hero's Journey. That means writing the book is a great way for you to examine how different life experiences shaped you as a person. Now, the conclusion to the book is when you share in your own words what you have discovered about yourself!
Examples of autobiographies
As we've noted, an autobiography often features famous people and tells the story of the author's life up to that point. As a result, famous names and faces comprise many of the best autobiography examples throughout history.
Narrative of the Life of Frederick Douglass is one of the most well-read autobiographies in the world. It helps that Douglass had such an impressive story to share with the world!
Before that, The Autobiography of Benjamin Franklin was a best-seller. Who wouldn't want to learn more about one of the most famous Founding Fathers?
Some other popular autobiographies include The Story of My Life by Helen Keller and The Autobiography of Malcolm X. While you don't technically have to be famous person to write an autobiography, these examples show that it doesn't hurt!
What is a memoir?
A memoir is a nonfiction book written in the first person that conveys your impression of certain memories over a limited amount of time. In this way, memoirs are very different than autobiographies, and may be more stylized.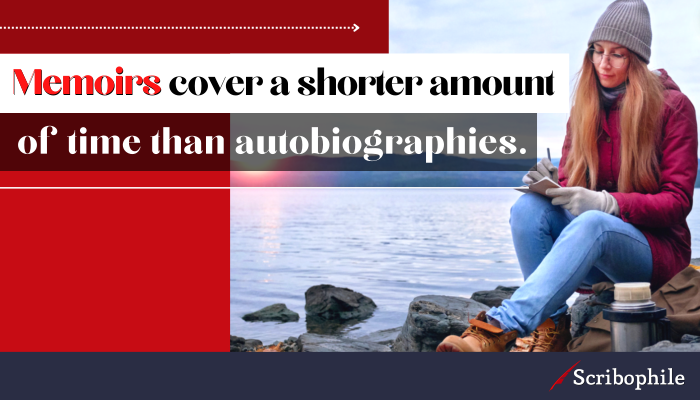 While an autobiography covers the author's life from a very young age to the present day—the full expanse of their experience—a memoir may instead focus on a shorter period of time, like the author's teenage years or their career in a particular industry.
Some writers find memoirs easier to map out, because creating an interesting narrative about a person's entire life is difficult—even if it's your own! It may also be easier to attract readers with a memoir than with an autobiography. That's because someone may overlook an autobiography if it isn't by someone they recognize, but memoirs focus on interesting experiences can feel more accessible.
Before you start to write your own memoir, though, it's important to understand the structure of this kind of narrative.
How is a memoir structured?
Memoirs provide a more flexible way to share your life story with others. You have more options when it comes to what the memoir focuses on and how you assemble your life stories into a compelling narrative.
You might write your narrative in the same chronological order that you would write a typical autobiography or fiction book. But in this case, the principle difference between autobiography and memoir is that the memoir is focused on a shorter time period. So instead of writing your story from childhood to present, you might recount your experience through your university years.
You can also write a memoir as a series of flashbacks, where the narrative bounces from the past to the present. This technique is very effective in showing how a person's life and thoughts have changed over time.
Sometimes, the tale of the author's life focuses on how they overcame a specific obstacle. This type of memoir functions as a kind of extended personal essay about the subject's life and struggles. This can help you process and share difficult experiences.
While memoirs may have subjective elements as part of the memories and impressions that are recounted, it's important that memoirs about overcoming difficulties represent a true story of your life. Otherwise, you risk the scandal that A Million Little Pieces provoked when it was revealed that author James Frey fictionalized much of it. (Alternatively, you could just change one or two names and call it a novel instead!)
Once you settle on how to structure your memoir, make sure it includes all of the necessary elements of any good story. For memoir and autobiography, this will usually include a first-person point of view (rather than a third person, or he/she, perspective), a cohesive story built around a theme, and a well-written tale of you overcoming obstacles while being emotionally open and vulnerable during the writing process.
Examples of memoirs
If you're not among the famous historical figures over the years, a memoir might be a better choice than an autobiography. Memoir authors know their book will be less about celebrity gossip and more about telling a good story.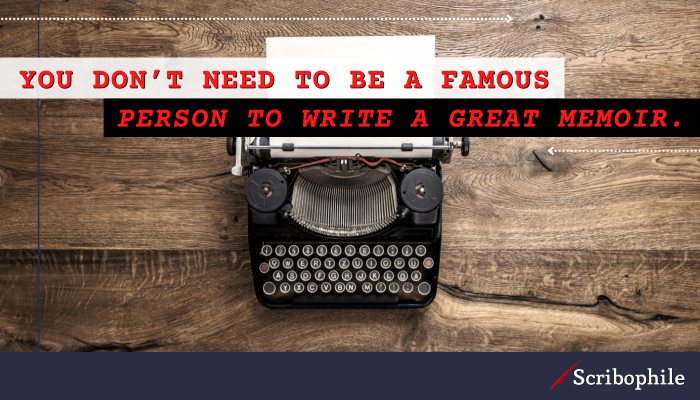 One of the most popular memoirs is Ernest Hemingway's A Moveable Feast, a personal account of his time in Paris. A more modern memoir that kicked off an entire lifestyle is Elizabeth Gilbert's Eat, Pray, Love: One Woman's Search for Everything Across Italy, India and Indonesia.
David Sedaris helped to redefine emotional rawness in his amazing memoir Me Talk Pretty One Day. Should you ever doubt how influential a memoir can be, look no further than Piper Kerman. After all, her Orange is the New Black: My Year in a Women's Prison spawned an insanely-successful television show on Netflix!
Should I write a memoir or an autobiography?
Now you know the key difference between a memoir and autobiography. This leads us to the big question: between memoir and an autobiography, which one should you write?
If you're looking for book sales, the better choice is usually a memoir. While the publishing industry loves churning out tell-alls from celebrities, they're more cautious when it comes to championing an autobiography written by someone relatively unknown.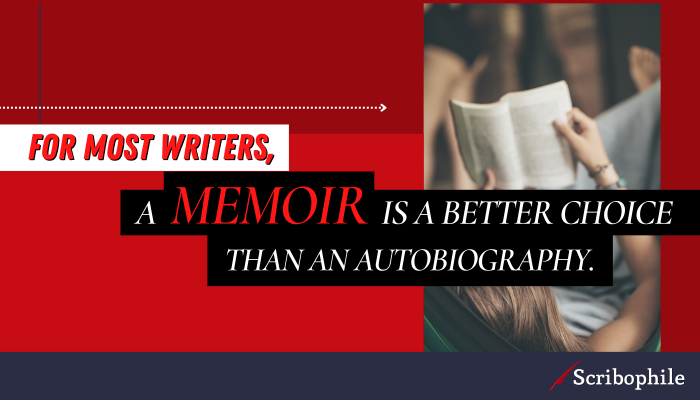 Furthermore, many writers prefer memoirs over autobiographies because they can focus more on subjective impressions rather than objective accounts. In other words, autobiographies tend to be about specific dates and facts; memoirs are explorations of personal experiences.
Finally, memoirs are more accessible for younger writers. Instead of waiting until you're older and have more lived experience to share, you can focus on a specific event, experience, or perspective that you think will resonate with many different lives.
How to write an autobiography
As long as there are personal stories to tell, there will be plenty of autobiographies. But what separates a great autobiography from a bad one?
Good autobiographies starts with meticulous planning. We're going to walk you through a step-by-step process that shows you exactly how you can get started.
Start with a good hook
Even being famous doesn't guarantee readers will want to learn more about someone's life. In order to get readers interested, you need to have a good hook.
Consider what sort of interesting things make your story unique. Did you spend time with someone famous in your line of work? Do you have insight into a cool, fascinating industry? Or did you overcome a seemingly insurmountable obstacle?
Whatever your hook, it's a good idea to incorporate it into the title of your autobiography. For example, Maya Angelou's famous I Know Why the Caged Bird Sings uses the evocative title to also describe the emotional truths that she discovered and unpacked throughout the book.
Craft a satisfying overall narrative
While this is easier said than done, solid autobiographical writing has to have an engaging narrative. In other words, it's one thing for authors to write about their lives. It's another thing for everything written to be entertaining!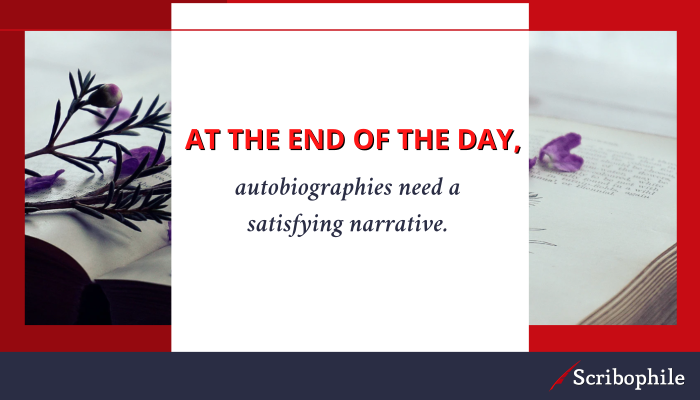 Imagine the different people who populate your book as characters in a work of fiction. How will you describe their appearance, actions, and personalities? Interesting characters and relatable dialogue may make the difference between compelling writing and boring writing.
At its heart, though, the book will be about your own specific theme and conflicts as you overcome your obstacles. Again, you're the hero of this book: time to make the story of your life something others want to read!
Map out a clear timeline
Compared to memoirs, which can be narratively experimental, autobiographies have a straightforward layout. Everything is written in chronological order. That's why it's so important to establish a clear timeline of events.
If you've never written an autobiography, you may think this means the author writes everything off the top of their head. In reality, the process can involve a lot of research to get important dates just right. Before you begin writing, put together an outline of important dates and events you want to touch on in your story (this can be a good practice for fiction, too!)
When the timeline of your book is clear, you make it easier for others to read and understand your story. When the timeline isn't clear, though, your readers may just be left scratching their heads in confusion!
Conduct extensive research
We already touched on this, but once again: an autobiography requires a lot of research. It may be a very different process than what you're used to in your other writing!
That's because you can't just rely on things like Google when it comes to your own life. You're going to need to interview family members and friends, dig through old photo boxes, and learn as much about different eras of your life as possible.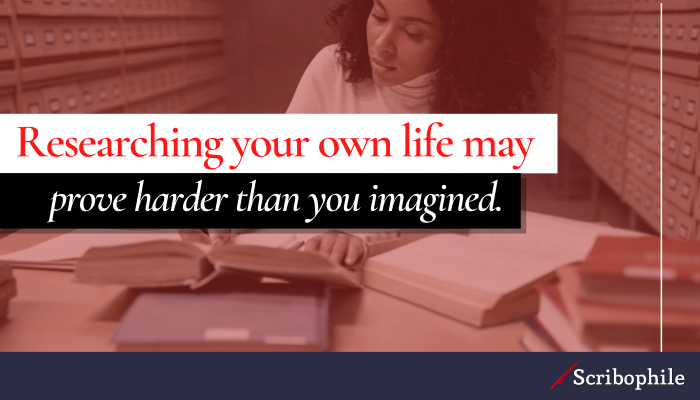 How to write a memoir
Compared to an autobiography, a memoir isn't just a historical account of your life. Rather, it's a subjective peek into some of the most raw and formative experiences you have encountered.
Fortunately, there are a few key ingredients to writing solid memoirs. These tips will help you hit the ground running when you decide to sit down and write!
Develop a powerful theme
Themes are an element of autobiographical writing, but they aren't at the centre of the narrative. In memoirs, though, a powerful theme is the most important way to help your story stand out.
Again, it helps to think like a fiction writer when developing this theme. Is this a story of a person succeeding an unforgiving world? A heartbreaking work of someone learning brutal lessons about love? Or maybe a coming-of-age story where someone's forced to grow up too soon?
With memoirs, you have the freedom of focusing on only one part of your life. Be sure to develop a powerful theme and use it to unify the rest of the narrative.
Highlight its universal appeal
While it's easier said than done, a good memoir needs to have universal appeal. In other words, no matter how fantastic your tale is, there should be something any reader can relate to.
For example, nobody else may have endured the exact heartbreak you did, but everyone has suffered from a broken heart at least once. Because of this, tales of love lost always find an audience.
Everyone has failed at something and then tried to make a comeback. Because of this, tales of redemption have a universal appeal.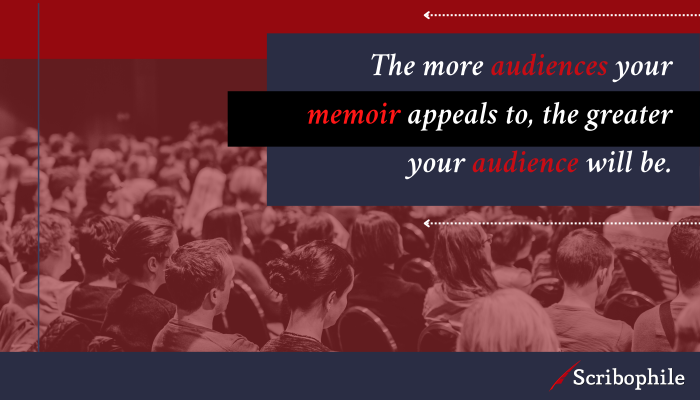 By choosing a theme that's universally resonant, you can gain the largest possible audience for your memoir.
Balance facts and personal reflection
Though known for poetry rather than memoirs, Emily Dickinson offers memoir writers some great advice: "Tell the truth, but tell it slant."
As we noted, it's important for memoirs to convey true events. If the events aren't true, then memoirs lose all their appeal and become just another kind of fiction.
However, memoirs are more personal than autobiographies are. This gives you room to reflect on different people and experiences through a more subjective lens. By combining interesting stories with engaging reflections, you can keep readers captivated.
Begin writing the story of your life
Memoirs and autobiographies offer different ways to share your life with the world. While these primary formats for writing about yourself share some similarities, there are key differences that may influence your choice.
Once you have decided on which medium is right for you, you may be surprised at how rewarding writing about your life can be. This way, you also leave a powerful legacy for future readers to discover.